I felt the need of taking a break from the city life. That kind of break that would take me back to nature where it can finally breathe life back to my soul. As soon as I found Mt. Gozaisho, I right then knew that it's the place that I am looking for.
Mt. Gozaisho is in the border of Komono, Mie Prefecture. It's elevation of 3,976 ft. makes it a snow-capped mountain during Winter even if it is in Mie Prefecture. It's the perfect getaway not just because it has Snow, but also because it has everything. From mesmerizing sceneries, to sledding and skiing activities, to historical landmarks, and many more! Check out below: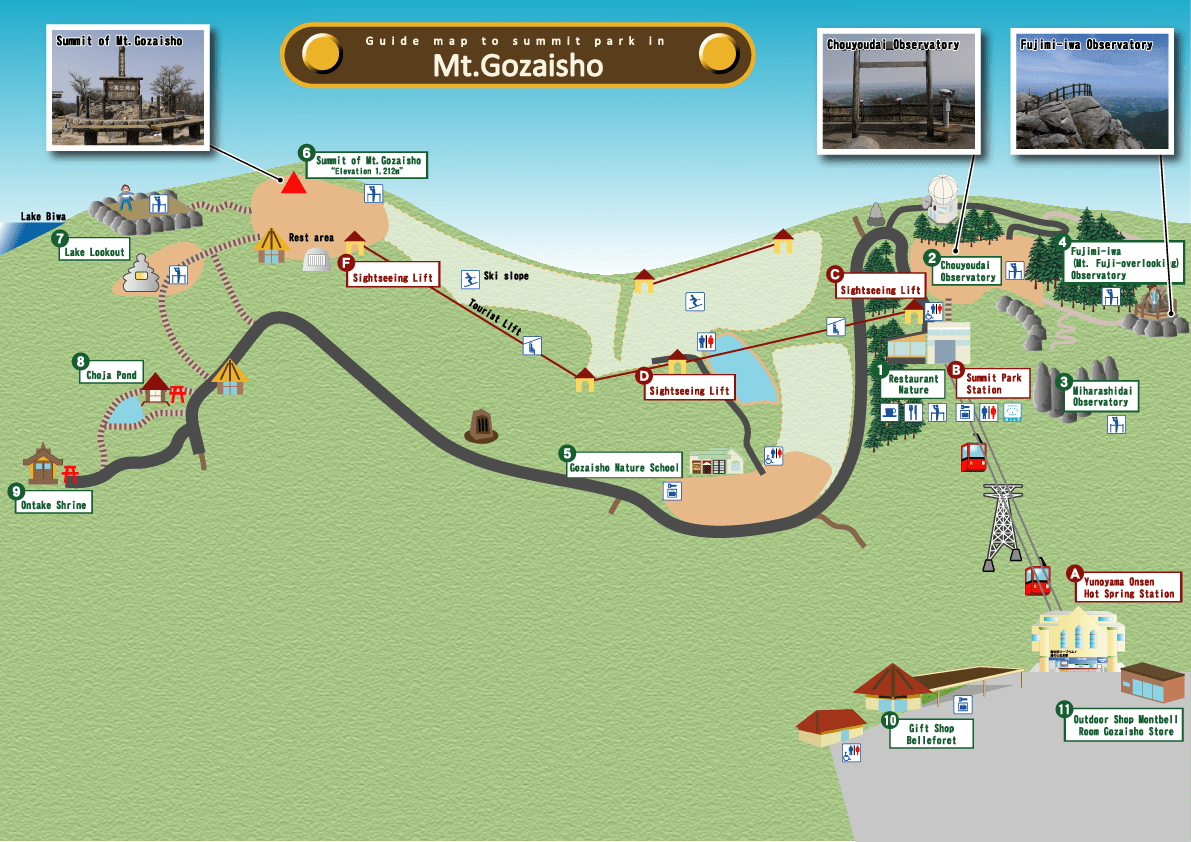 The Mt. Gozaisho Ropeway
If there is one thing that Mt. Gozaisho is extremely known of, it is their Ropeway. This mountain is not for the faint-hearted. You really need to ride their Gondolas to reach the Summit for you to get all the fun you want. As scary as it seems (and feels), the view from the Gondola Lift is breath-taking. You will probably enjoy the 2.1 km ride up the mountain.
Sun-lit Snow and Juhyou
Juhyou viewing was one of the main reasons why I chose Mt. Gozaisho for this trip. These pretty little formations of iced water-vapor are just mesmerizing and I miss seeing them in person. Mt. Gozaishou has them during Winter.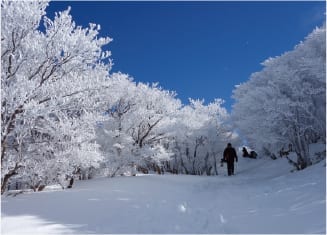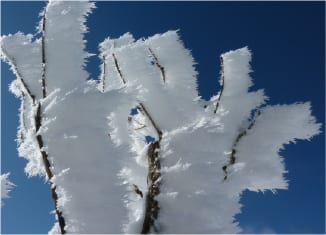 Credits: http://www.gozaisho.co.jp
I was hoping and praying that they would still be there when I go. UNFORTUNATELY, upon reaching there, my hunch was true. Of course they won't be there anymore. It's already end of February. Duh. It's fine, tho. I still enjoyed the thick pretty snow.
But hey! I found 1 tree with Juhyou and its in the middle of the Sled and Ski area so, it doesn't look that mesmerizing, but the Juhyou is still as pretty as the first time I saw one back in Fukushima last 2013.
Great Food with great Restaurant view
I think there are 3 restaurants in Mt. Gozaisho, but Restaurant Nature is the best for me. They have the best Curry Udon plus, they have the perfect view of the mountain. Their cheapest Curry Udon is at ¥900 and I already got so full with that serving. I stayed there longer than I planned because the view was just so comforting.
Another great thing about Restaurant Nature is that, they have many types of free tea and of course, water. You actually don't need to purchase anything else other than the Curry Udon if you really are in a tight budget.
Sled and ski all you want!
Even if Mt. Gozaisho only has a small area for people to sled and ski, it's actually not that congested. I, on the other hand, did not do sledding and skiing. I want to enjoy myself more on the scenery and the nature of Mt. Gozaisho so I didn't preoccupied myself with sledding and skiing. I just had fun watching the kids and adults enjoy with it.
For those interested, you can check out the Sledding and Skiing rules and rates here.
The Sightseeing Lift
Yes, they have a sightseeing lift! I really didn't plan on riding this lift because I don't want to spend ¥600 for just a lift. Unfortunately, you really need to ride if you want to see the other side of the mountain. Good thing I needed to ride the lift because I found out that it was really fun. This lift ride was one of the highlights of the trip.  Why? That's because the lift will take more or less 5 minutes and it's quite a scare (adventure!) since they do not provide any safety belts plus, the way to the summit is really steep. You also get to enjoy a nice view along the way.
That beautiful, beautiful summit!
I went to Mt. Gozaisho to find the kind of peace and quite that my soul needs in the moment. The effort was really all worth it when I saw this beautiful summit view. I actually stayed and sat there for a very long time and listened to nature. Then I got all sentimental and needed my favorite Chinese song so I listened to it and sat there for almost an hour. If those other noisy tourists didn't appear, I probably would've stayed longer. But nah, it's fine.
And that's my 1-day soul refreshing trip to Mt. Gozaisho. It's not much but if you are the same as me, who's near Mie Prefecture, and needs a place to space out, Mt. Gozaisho is a great place to be.
I didn't forget the Itinerary and Summary of Expenses, of course.
Itinerary and Summary of Expenses
What I spent for the trip were only the absolute necessary things but it still cost me ¥6700. Since it's Japan, it's not really surprising that a daytrip like this will cost you more or less ¥7000 all in all. I think it is cheaper, tho, compared to other trips. You just always make sure that the money you spent is worth it. So here's the breakdown of the expenses and the cost.
Travel Guide
How to get there from Nagoya Station?
Timing is E-V-E-R-Y-T-H-I-N-G!
If you want to see Juhyou, make sure to visit the mountain on late December or early January. Same also applies to Spring and Autumn peak seasons. Search the best time to visit depending on the season.
Do fun stuff! If you don't want to be such a boring person like me, here are the other things you can do in Mt. Gozaisho.
And that's all.
I hope you enjoyed this little trip.
ありがとうございました!♡