I didn't really know that Ryokans still exist in Japan. To be able to stay in a 100-year-old Ryokan for a night and experience the cultural immersion it offers is such a privilege.
A Ryokan (旅館) is a traditional Japanese inn. Now that Japan is very much modernized, one cannot expect that Ryokans still exist. However, we are lucky that Japan treasures and preserves their cultural relics dearly that even centuries old inns still survive up to today. I am privileged enough to have met and stayed in to one last September 2020, and this is my experience. Read ahead!
Meeting K's House Ito Onsen
I was looking for a place to stay for the night in Atami, however, there was a peculiar item from my Agoda search. It was an old-looking inn with an Onsen located in Itō City. When I checked it out, I was surprised to know that it is a renovated Ryokan! My heart leaped in excitement. I didn't know that these things still exist and I knew that I had to stay in it even just for a night!
K's House Ito Onsen
12-13 Higashimatsubaracho, Itō, Shizuoka 414-0022
+81557359444
Pro-tip: Book via Agoda. They offer a lot of deals! I had my Agoda VIP Deal coupon (55% off!) transacted in it, plus the GoTo Travel coupon (¥1,225 off!) is applied, plusssss I got a Local voucher coupon (¥1,000 off!) so instead of paying ¥6,889 for the booking, I only paid ¥2,133 for the Female-only Dormitory!
My trip to Itō City is the second part of my 3-day Trip around upper part of the Izu peninsula. During the first day, I went to Atami. So I arrived in K's House Ito Onsen at around 8pm via train. The place is filled with lights during the evening. It is very beautiful. Especially when you look at the place at the Riverbank. It is definitely the star of Ito City!
Arriving and Checking in to the Ryokan
Let me give you one reminder. Ryokans are very popular to tourists. So, it would be better for you to book your accommodation in advance. I booked mine 1 week before my stay. I guess, 1 week is safe if it is not peak season. When's the peak season you ask? Well, I think Ryokans with an Onsen is very popular during the cold seasons. I went there during Summer so booking 1 week before wasn't that scary, but on the night when I went there, there were already no vacancy. So definitely, walk-ins are NEVER advised!
Tips:
They do not have elevators (of course, it's a traditional hotel!), so you will have to carry your belongings to your own floor. I had a huge suitcase during my stay there so I needed to carry that all the way to the 3rd floor. What an unfortunate kid! *laughs*
You need to leave your shoes at the reception because they do not allow shoes inside. Make sure your feet don't smell! *laughs*
Buy your own food in advance. They don't offer any food menu. You have to buy or make your own.
What's inside?
If you decide to stay in a Ryokan, you are staying there for the cultural experience, not the comfort. So, the bed might be uncomfortable than the soft cushions of 5-star hotels, but that's not what you're there for! You're there to witness the old wood foundation of the Ryokan, the dusted paper-covered windows, the old yellow light bulbs― overall, the traditional Japanese experience. That's what I was there for. So let me show that to you here.
Everything actually looks so fragile. The wooden floor sounds when you step on them. The corners of the place is creepy. *laughs* The ceiling is low. The staircases are wooden and old. The doors are Sliding Doors. It's like 1890s all over again!
Although the Ryokan is old, it was already a renovated one. So there are of course modern changes that can be seen inside. However, the owners of the place wanted the place to look as traditional as it could be, so they added a couple of exhibits such as the one above.
I was not able to take a photo of what the rooms look like because I had a roommate and I'm worried that she might get conscious if I take photos. So, just enjoy this photo of a night lamp they have.
On a second thought, I thought I can grab a photo from their website so here's what my accommodation looked like.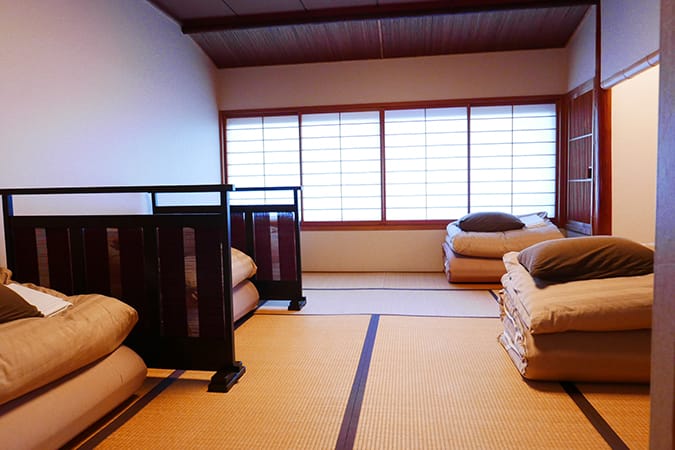 At their common lounge is the view of the riverbank. You can marvel at the serene view as you sit on the low tables. Their lounge is just very relaxing and beautiful, you can stay there for hours, cherishing the beauty and the experience of it. What I loved the most about at the view are the old trees still standing strong beside the building towering over the riverbank.
You can stay and sit outside as long as you like. Perfect for relaxation, right?
As much as the we would like to experience a full traditional stay, they just needed to make it more convenient for the lodgers so they put up a modern kitchen for everyone. You can leave ready-eat foods or make your own food there. Don't worry, they have a Refrigerator, an Oven Toaster, free coffee, and all sorts of equipment and freebies.
Their Onsen is a State of the Art
I've only been in 3 Onsens in my life so far and this is the 2nd best Onsen I've been into! Of course, the first one is still Nikkou-Tei Oo-Yu Hotspring (日航亭大湯温泉) because that's where Tokugawa Ieyasu bathed, but this one is still such a great place to have your Onsen experience!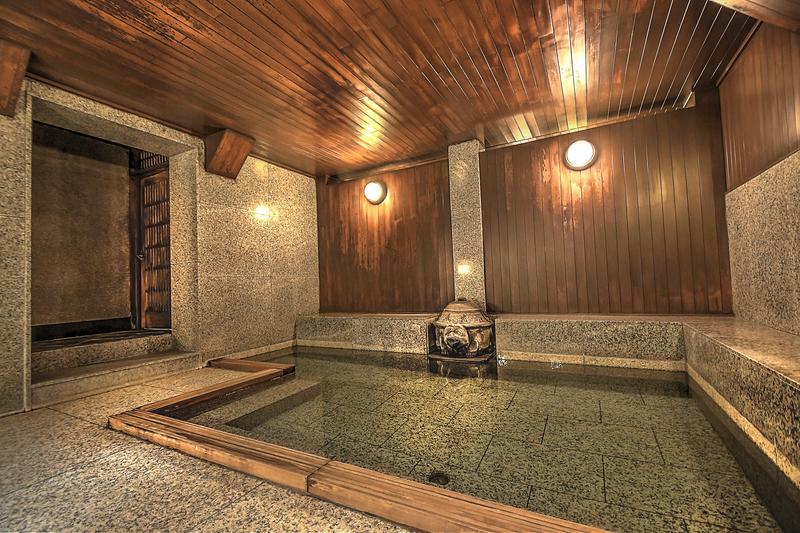 The water is full with natural minerals, the place is squeaky clean, the equipment are complete, the place looks traditional― everything is just perfect!
Pro-tip: 東海館(伊東温泉 観光・文化施設), which is a a hotspring inn built in 1928 that is now made into a historical museum, is also located beside K's House Ito Onsen. You may also visit the museum to soak more on the traditional Japanese inn experience.
And that's it!
I've been to a lot of hotels all around Asia, but my simple stay in this Ryokan tops it all. Because once again, I am staying there for the cultural immersion and not only for the night. I will trade a 5-star hotel over and over again for a Ryokan. I suggest you should, too!
I hope this article will be able to help you in your stay in a Ryokan! One important thing: Enjoy your stay! It's culture that you are experiencing, so cherish it.
For questions, inquiries, or suggestions, drop them below!
Sincerely,