I didn't intend to travel to Itō. Right after my day in Atami, my sole intention is to sleep the night in Itō then head off to Shimoda to surf. But when the universe conspires, there's pretty much nothing you can do but to enjoy the ride!
Today is a story of my day trip around Itō, Shizuoka last September 2020, when the winds were still not as cold as today while I'm writing this. This is a narration of my stay in my favorite hotel by far and my scary walk in a forest just to find a place full of New York lamps. Excited with all of that? Read ahead!
Famous as a hotspring resort town in Izu Peninsula, one would think that the only thing Itō can offer are Onsens, but definitely not! Itō is a town that has a lot to offer, and I would've been very happy to tour around Itō without hesitation, but I was unfortunate when I was there: IT WAS RAINING. Given my predicament, I was left with no choice but to get the most of what I have, and so I did.
My First-ever Ryokan (旅館) Experience
I didn't have the slightest idea what a Ryokan was. All I was searching in the internet was a cheap place to stay for the night in Itō, but the universe once again conspired for me. It gave me a very cheap price to not only stay in an Onsen hostel, but in a 100-year-old Ryokan with a state of the art Onsen facility.
Read my stay in K's Hostel Itō Onsen here: The Ryokan (旅館) Experience in Itō.
After a marvelous night in the Ryokan, I set off earlier the next day to tour around Itō. It was a spontaneous trip so I didn't have anything planned. I just went to Itō Station to drop my suitcase to one of the paid lockers there. I was also planning to get some breakfast while pondering on where to go for the day. The day started right because when I arrived at the station, I was introduced to an Unli-ride Promo of Tokai Bus. It covers all of the top tourist spots in Itō, usable for 2 days, and for only ¥1,500! Of course I winged it! It was such a great deal!
Pro-tip: Make sure to avail the Unli-ride Promo of the Tokai Bus because Bus rides in Izu are quite expensive, unlike the city buses in bigger towns or cities. Going around Itō will cost way more when you don't avail the Tokai Bus promos. Especially when you travel to nearby towns such Izu or Shimoda, you can get a cheaper bus price because you can use the unli-ride pass half way the ride!
The Unique Mount Omuro (大室山)
For me, Mt. Omuro is definitely Itō's greatest treasure. Its features are beautiful and unique. I haven't seen anything like it here in Japan. It looks like Mt. Semeru and Mt. Bromo of Java, Indonesia combined! It colors green during Summer and it shines in brown during the rest of the cold seasons.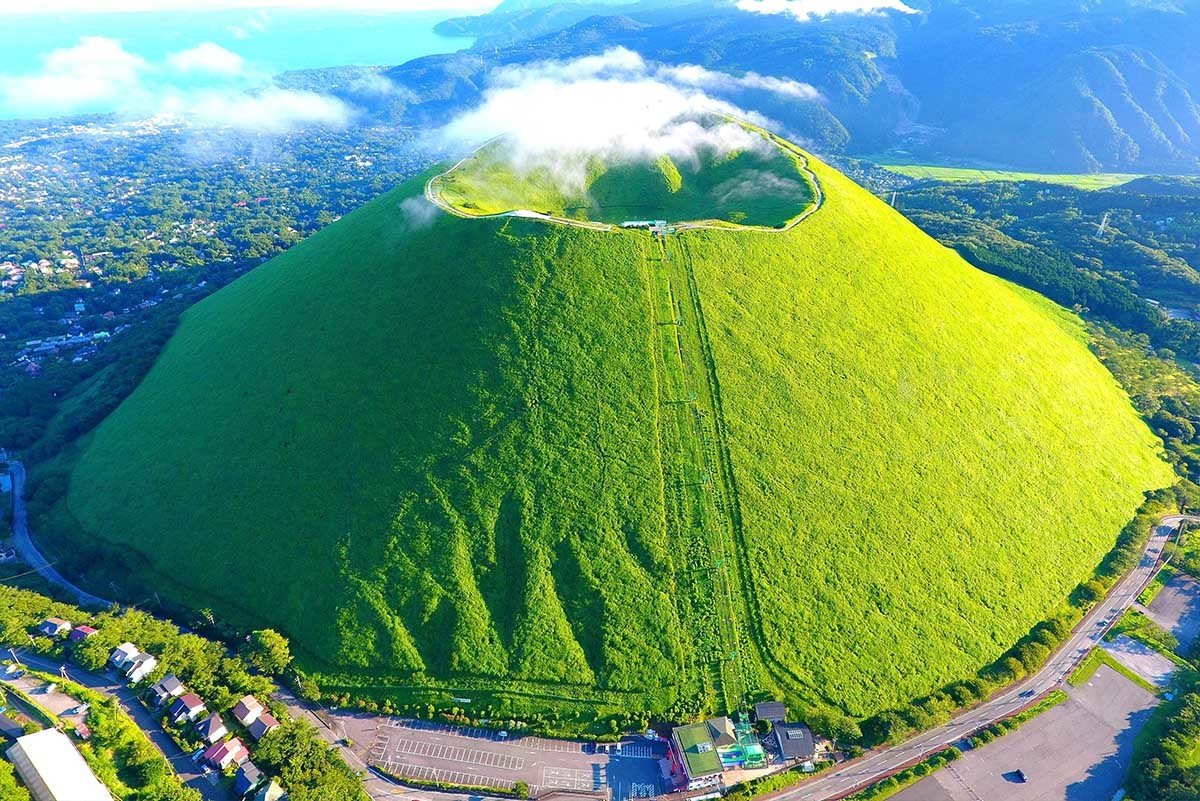 As what I was saying earlier, I visited Ito during a rainy day, and during rainy days, they do not open Mt. Omuro's cable ride to the top. Unlucky me! The only thing I managed when I arrived there was to marvel at how beautiful it is despite the gloomy day.
Mt. Omuro (大室山)
Ike, Itō, Shizuoka 413-0234
There's also a Cactus Museum and a Zoo near Mt. Omuro. If you are interested with those, they are just a right across the mountain.
Lunch at Izu-Kougen Station
Right after the quick drop at Mt. Omuro because I couldn't go up to the Cable seats, I decided to just go to the famous Izu-Kougen Station, which is one of the biggest train stations in Ito. The station is like a shopping mall, with many stores and restaurants inside. I went to an old Japanese restaurant looking for Ramen, but I noticed a weird fried rice in the menu so I tried it. I just wish I hadn'tー I was devastated by my meal that I needed to drink a bottle of Coke after. Perhaps it was not my cup of tea but the restaurant boasted of how popular this food was, so maybe for others, it would've been delicious.
Unfortunately, I took a lot of time eating my lunch that I missed my bus to New York Lamp Museum & Flower Garden, so I thought, I could just ride a train to the nearby station then walk for 21 minutes to the museum. After all, that's what Google Maps said. To my dismay, the road was along a very huge forest with old trees and a dark atmosphere. That 30-minute walk was the longest 30 minutes of my life. I wanted to turn back and return to the train station, but I was already halfway so I just kept going. Thinking about it now, I want to hit myself for how stupidly brave I was. Never doing that again, ever.
A Trek along a Forest just for New York Lamps! Totally not worth it!
New York Lamp Museum & Flower Garden
(ニューヨークランプミュージアム&フラワーガーデン)
841-1 Futo, Itō, Shizuoka 413-0231
The old New York lamps were pretty, but after all the danger I've been through to get there, I was just flustered and disappointed at the tiny museum I arrived in to. Totally not worth itー for the travel to that remote place to its ¥1100 entrance fee for adults.
Well, at least I loved their garden. But to be honest, the garden was also not a lot. It just had some amount of flowers here and there, but it was not a lot and the flowers were not as special. Want an honest review? THE PLACE IS NOT WORTH IT. I don't recommend going there unless you're aiming for other tourist spots around.
The End of my Day in Ito, to Izu next!
And that was my day in Itō. I know it's not much. I swear if it was just not raining, I would've visited more places, better places, but there are just things we can't do when the weather doesn't allow us to.
Watch out for my next article because this next place and trip is by far my best trip in Shizuokaー Shuzenji! Watch out for that story on next week's #TravelTuesdays!
Yours,